Good afternoon everyone!
Before we talk about programs, just a quick reminder that our open house is this Thursday (1/19) from 6-7:30 PM. We will be letting people see our space and answering questions about programs, including our new esports pipeline program!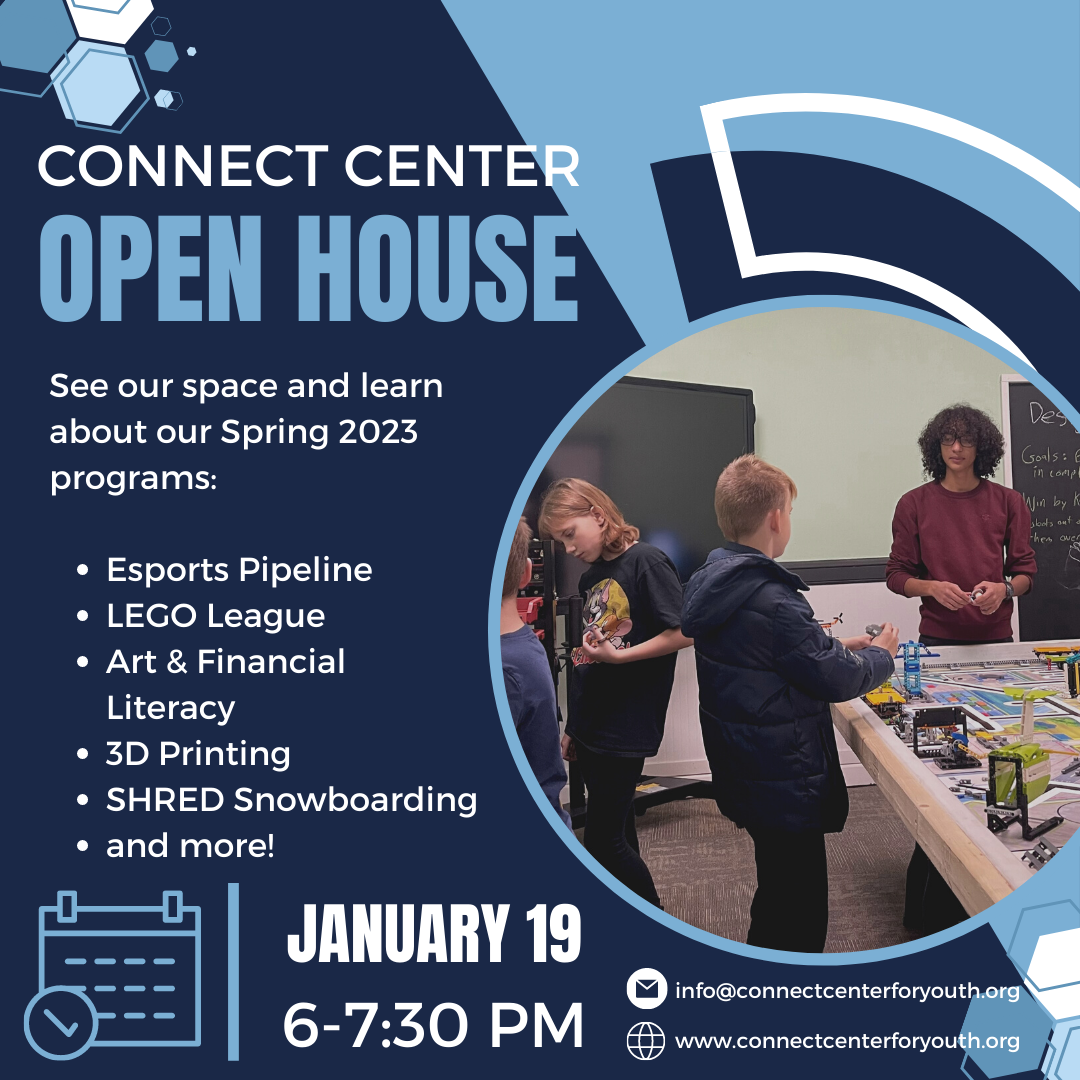 We are excited to present the following spring Connect After School Programs:
Esports Pipeline Program//Apply Here
IMPORTANT UPDATE: The start date for this program has been pushed back to 2/6, and the application deadline has been extended until 2/2, when we will release acceptance emails.
Mondays & Tuesdays (4-5PM) an Fridays (3-5PM) from 2/6-5/5
The Connect Center for Youth and Claim to Fame Entertainment have partnered to create a free, after-school esports program for students interested in the video gaming industry. Full details here.
When submitting your application, please use a contact email that will be checked, as your acceptance decisions will be sent through there.
Art & Financial Literacy//Register Here
Tuesdays (3-5 PM) from 3/7-5/2
Come join us after school at the Connect Center for our Art & Financial Literacy workshop, taught by James Mitchell of Young Futures. Students will create artwork while learning valuable financial literacy skills. Full details here.
Storytelling Workshop//Register Here
Tuesdays (3-5 PM) from 4/18-5/2
Join multitalented, fun Teaching Artists Ayah Osman and Stephanie Ward from Children at the Well Storytelling for a special 3-part workshop to learn some basics of storytelling and begin to find or create the story that speaks to you! Full details here.
3D Printing//Register Here
Wednesdays (3-5 PM) from 2/1-5/3
Students will learn how to design and create 3D printed objects from scratch. This program is open to middle and high school students. Full details here.
LEGO League//Register Here
Thursdays (3-5 PM) on the following dates: 2/2, 2//9, 2/16, 3/2, 3/9, 3/23, 4/6, 4/27, 5/4
Students will build LEGO robots, and use them to complete a series of STEM puzzles. Open to all students between 10 and 16 years old. Full details here.